The Roastery
Regular price
Sale price
$7.95 USD
Unit price
per
Sale
Sold out
Flavor Notes
Aroma: Apple cider, slightly floral, wood
Flavor: Tart citric acidity with flavors of apple juice, slight florals, and a lingering oolong tea and woody aftertaste.
Body: Silky, round, and medium-weight.
When coffee is processed, the layers of skin, fruit, and parchment are broken down and removed, leaving behind the seeds we roast and brew. Those discarded layers once provided life and protection to the seeds, but don't have to all go to waste. The skin of the coffee cherry can be dried and sold as a singular product called Cascara.
Cáscara is a Spanish word that translates to peel, shell, rind, husk, and skin. Countless organic and inorganic objects have an outermost layer, so it's important to note that this Spanish word isn't exclusive to the coffee cherry. As this product has trended in interest over recent years, though, "Cascara" has become the moniker for dried coffee cherry skin.
This dried fruit skin can be brewed with hot water to make a tea-like beverage that carries the flavor of the dried coffee cherry into the cup. For those that have never tasted it, it has a tart, raisin-like flavor with a mild fruit rind bitterness that is fascinating on its own and can also be used as an ingredient in a mixed drink.
Brewing Suggestions
Cascara is brewed like tea – steeped in hot water. The beverage is a unique expression of coffee with about a quarter of the caffeine. There is no standardized recipe to brew cascara, so we recommend you experiment with the cascara-to-water ratio to determine your desired concentration. We suggest brewing with a similar concentration to black coffee (1:16). For cafes, recipes can be scaled up or down as needed.
Hot Cascara Tea
10oz brew: 24g cascara steeped in 400g water at 205-208° for 5:00
Iced Cascara Tea
16oz iced brew: 24g cascara steeped 200g water at 205-208° for 5:00. Strain and immediately dilute with 200g of ice to chill, and then add ice.
Batch Brew Cascara
You can even use your batch brewer for large quantities! Dose the dry cascara into a large water pitcher and run a brew cycle onto it. After the cycle is done, filter the cascara out through a strainer or filter. Bottle the tea, refrigerate, and use for service.
1-gallon brew: 230g cascara to 1 gal (3785mL) water at 205-208° for 5:00-7:00.
Signature and Seasonal Drinks
The dried-fruit sweetness and fruit-rind bitterness of cascara are reminiscent of dark liquor. Cascara pairs wonderfully with citrus acids, spices, and fruit or sugar-browning flavors. Adding flavored syrup to cascara tea is a simple starting point for creating a unique drink. For more complex drinks, try brewing a cascara concentrate or creating a syrup.
Concentrate suggestion
You can brew cascara as concentrated as needed. Start with a 1-to-10 ratio and using small amounts of the concentrate as an ingredient in drinks.
12oz of concentrate: 40g cascara steeped in 400g water at 205-208° for 5:00
Drink ideas using cascara concentrate
Dark and Stormy inspired:

3 oz cascara concentrate + 6oz ginger beer + 1oz simple syrup + .5oz lime juice + ice

Arnold Palmer inspired

3oz cascara concentrate + 4.5oz sparkling or still water + 1.5oz lemon juice + 1.5oz simple syrup
Cascara Syrup suggestion
There are two approaches to infusing cascara into a simple syrup. The first method is to make a simple syrup by boiling a 1:1 ratio of water and sugar until the sugar dissolves and then adding cascara to the hot syrup, infusing for 5-10 minutes before straining and bottling. The other method is to brew a cascara concentrate and then boil that concentrate with sugar to create the syrup.
Share
View full details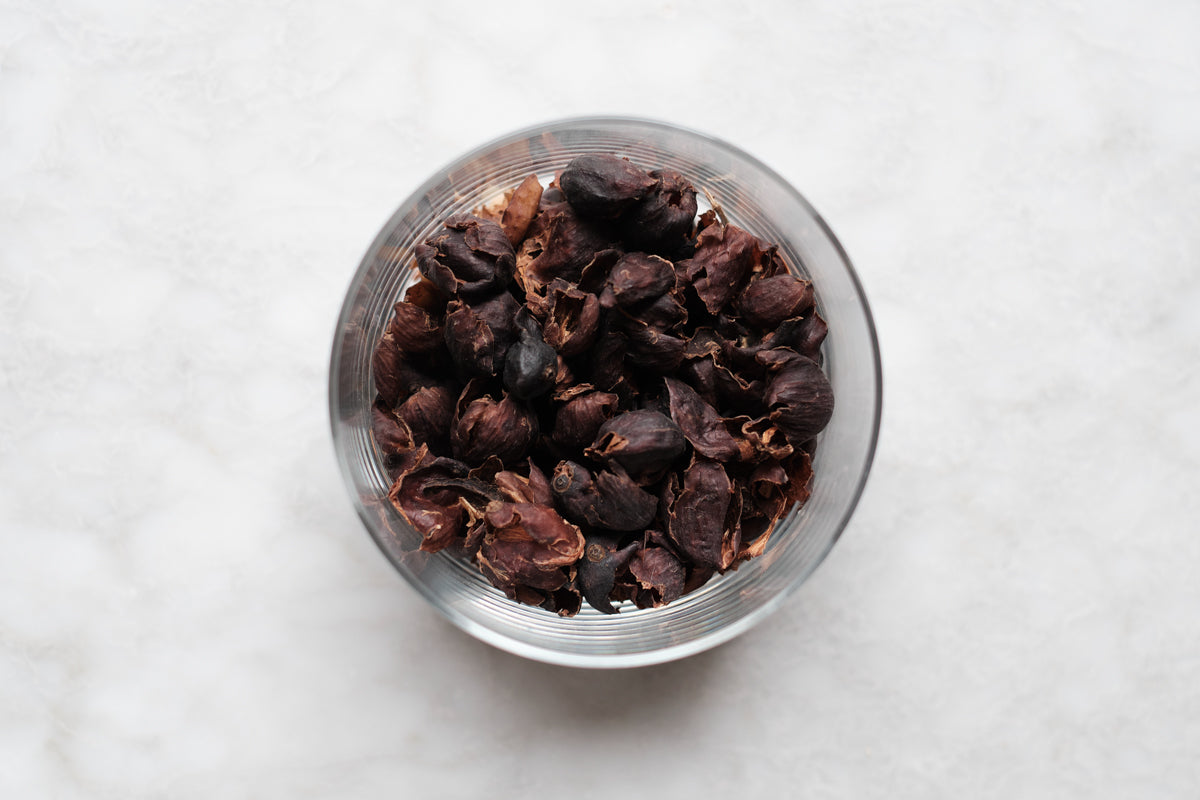 Collapsible content
Roasting Schedule

We roast Tuesdays and Wednesdays

Orders ship on Thursdays and Fridays

Pickup orders will be notified when their roast is ready for pickup.
Wholesale Pricing

Wholesale pricing is available for most products

Use our contact form to request a wholesale account, or login to the wholesale portal with your credentials.